Jurisdiction Report added to the Nexus Analysis Report
This exciting new addition to our analysis reporting package has three components:
Per Transaction Address Precision

Address Validation Score

Jurisdiction & Rate Assignment
1. Per Transaction Address Precision
Most of your client's source systems only provide fractions of ship-to addresses in their invoicing or orders reports. Often, there are errors or missing components. Accountants have told us they spend a significant amount of time chasing after and cleaning up transaction data prior to analysis.
Now, LumaTax will automatically validate, correct, and standardize each transaction's address to the level of completeness possible.
After we access all addresses, we break down the transactions into four categories, each representing a degree of precision: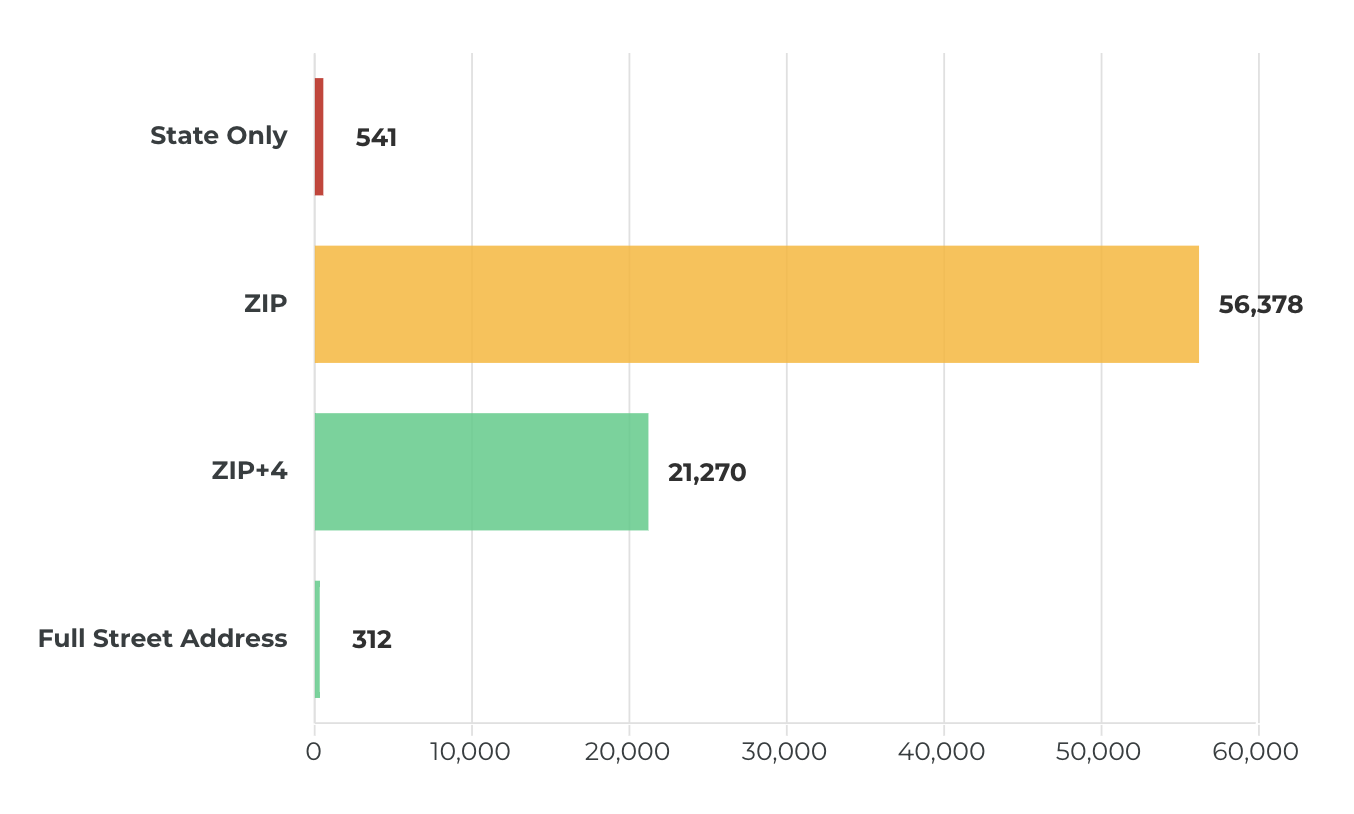 State Only:

number of exposed transactions with only the state provided

Zip Code

: number of exposed transactions with a 5-digit zip code

Zip + 4

: number of exposed transactions with a complete 9-digit zip code

Full Street Address:

number of exposed transactions with a valid street address, city, state, zip +4
2. Jurisdiction & Rate Assignment
Next, we use these addresses to assign a tax jurisdiction and rate to each transaction and calculate accurate economic and physical nexus exposure amounts by state, by category. Each exposed state has a card detailing the results included in the report.

For transactions with more accurate addresses, we are able to assign a precise rate instead of a range.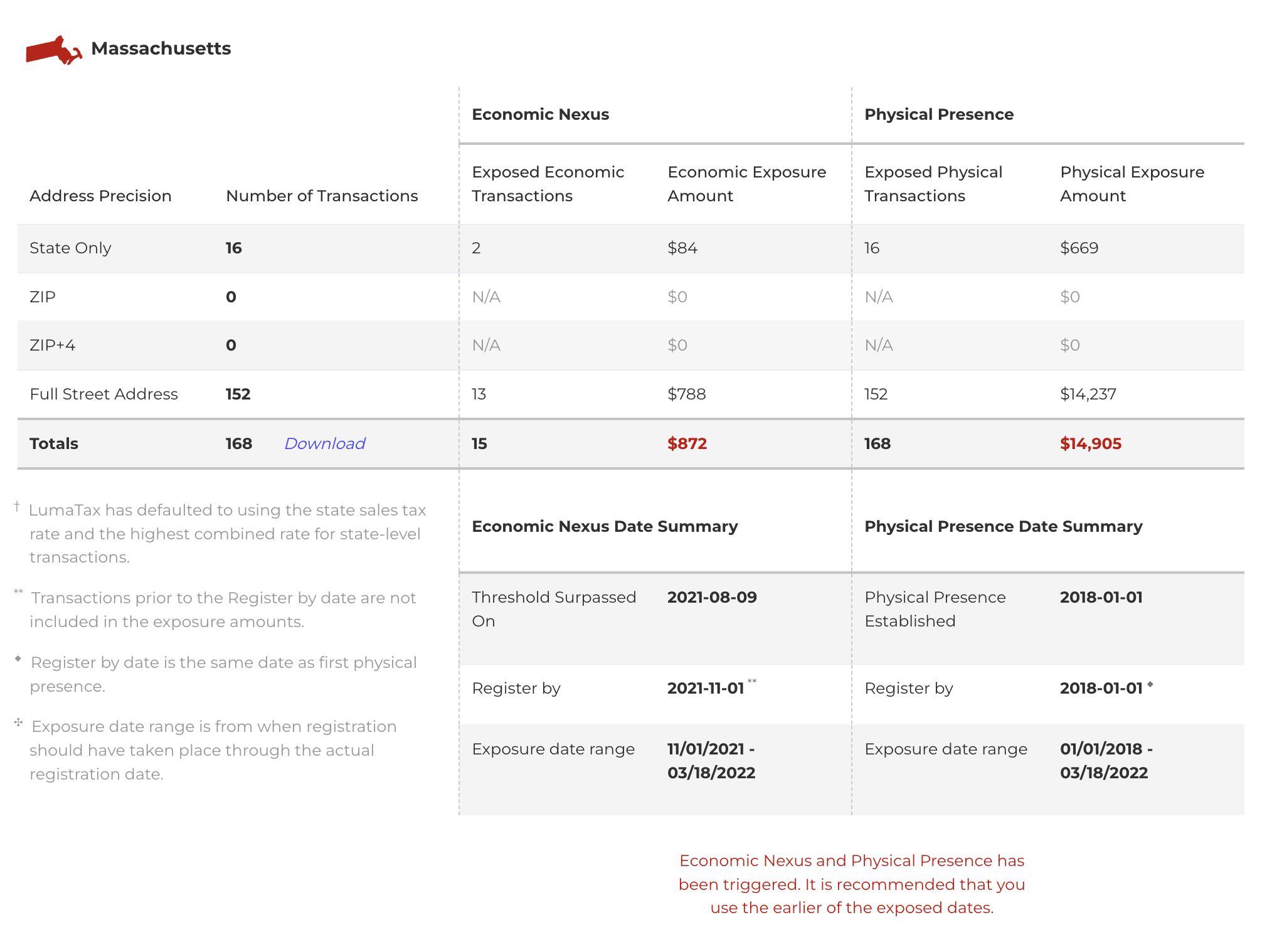 3. Address Validation Score
Finally, we assign a score based on the results. A higher score represents higher address precision and more exact exposure calculations.
< 70 (Red):

Low accuracy; most transactions only include the state or state and zip code.

> or = 70 and < 90 (Yellow):

Medium accuracy; most transactions have at least zip code +4, but not the street address.

> or = 90 (Green):

High accuracy; most transactions have a complete address for roof-top accuracy
This score will help you assess the overall quality of your client's ship-to addresses.
Auto-map Shopify Files
LumaTax can now auto-map transaction files from Shopify to the appropriate fields in LumaTax, reducing the work needed to bring data into LumaTax.

When you upload Shopify files to LumaTax, the tool will automatically match the columns appropriately. There is no need to clean or consolidate ahead of import; LumaTax can handle that!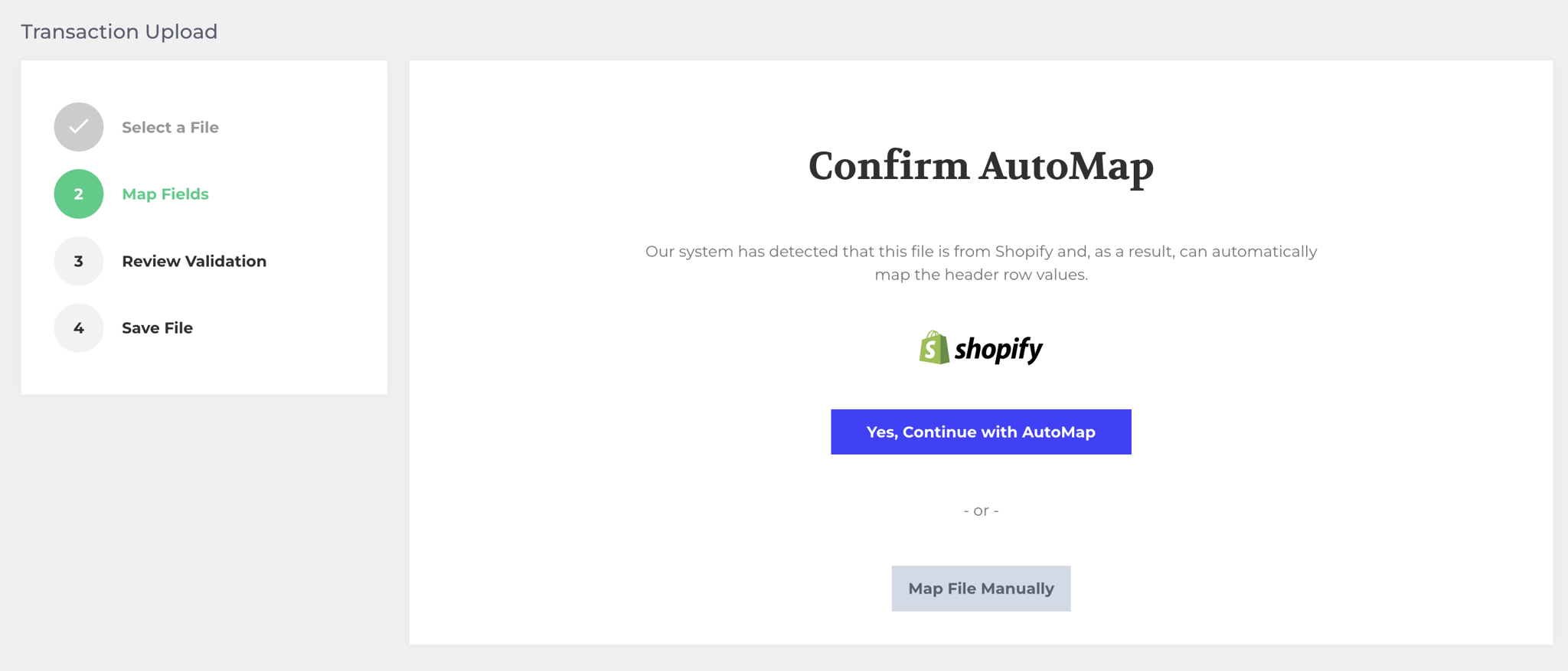 This new Spotify auto-mapping functionality joins the Amazon auto-mapping we have had in place for some time. For more details and guidance on export and import of data, visit our Transaction Data articles here.

Amazon and Shopify are the most common file types we see, but LumaTax can support any .csv formatted source system files that your clients may have (QuickBooks, Square, Etsy, et al.), and you can save any mapping for future use. We hope to auto-map additional file types in the future!

LumaTax is now SOC 2, Type II Compliant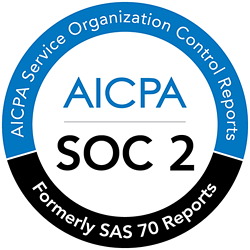 Data security is top of mind for us, our partner firms, and your clients. We recently completed SOC 2, Type II certification, which objectively certifies our controls to ensure the continuous security, availability, and confidentiality of our customers' data. We have a procedure to make this report available to our customers by request. Please get in touch with us for more information.
LumaTax Website Refresh

We launched a newly redesigned version of our website, lumatax.com. There's no change to how you log in as a user, but check out the site and watch our video for a refresher on how we simplify your sales tax advisory workflow. You can also access resources on our site, such as our blog.
Knowledge Base
In addition to the new website, you and your team can now access on-demand help. The knowledge base includes guidance on getting started, answers to frequently asked questions, and step-by-step articles on various LumaTax workflows.
Access these knowledge base articles through a new Help menu in your LumaTax account, or visit help.lumatax.com.
Coming Soon: LumaTax Partner Directory
We've recently had a significant increase in businesses reaching out to us seeking nexus studies and other assistance. Since we currently only serve the accounting community, we try to connect these client prospects with experts who can help them.
With this in mind, we're building a directory of LumaTax partner firms for our website. If you are a LumaTax subscriber and would like to be included, please contact us if we haven't already received your information.
Questions or Feedback?
Please reach out to the team at support@lumatax.com.